Main
→

News

→

All necessary SASAKI equipment and accessories for Rhythmic Gymnastics
All necessary SASAKI equipment and accessories for Rhythmic Gymnastics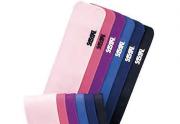 NOW!! In SPORTA shop - all necessary SASAKI equipment and accessories for Rhythmic Gymnastics.
Professional equipment and accessories from brand SASAKI, Japan.
SASAKI is leading company of goods for gymnastics, is known worldwide for its high quality products. Professional equipments, clothes, shoes, and accessories are intended for Rhythmic Gymnastics. The products are FIG-approved and professional quality.
Today, SPORTA suggests all necessary equipment for rhythmic gymnastics: professional balls, jump ropes, ribbons, sticks, half shoes, hoops, rubber clubs, as well as the warm up belt warmers / waist warmer, leggings / leg warmer, knee pads, underwear panty, under suit body and other equipment for the training and competition performance.
Large variety of a beautiful color ball, ribbons, rubber clubs, ropes and covers / bags for them; comfortable half shoes made flexible leather and microfiber, demi shoes knitted, etc. High quality accessories and items for rhythmic gymnastics for beginners and professional gymnasts.
Internet shop SPORTA allows placing your order anytime - quickly, easily and conveniently, saving time and money.
Worldwide delivery and 24-hour online international orders and payment information.
01.07.2013
Like the article? Tell a friend about it: