Medical Abdominal belt with increased comfort level - for women in postnatal periode in order to regain shape of abdominal muscles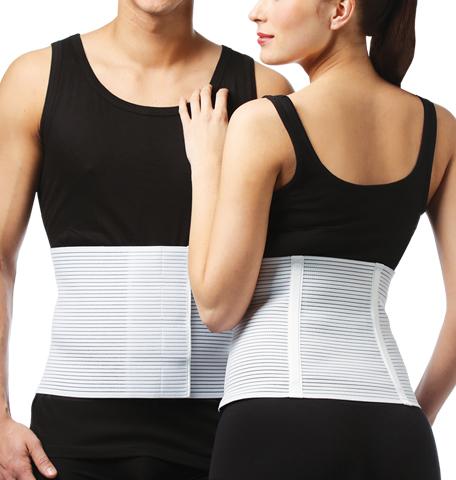 Like it? Tell a friend about it:
Brand: TONUS ELAST, made in Latvia
Compound of raw materials: polyester – 66 %, latex – 34 %.
With firm inserts and velcro fastener.
Aplication: support of abdominal muscles after surgery, hernia treatment, kidney drop,
as well as support of spine muscles.
Recommended for women in postnatal periode in order to regain shape of abdominal muscles.
Sizes table:
Size
a, см
h, см
0
XXS
55-64
24
1
XS
65-74
24
2
S
75-84
24
3
M
85-94
24
4
L
95-105
24
5
XL
106-115
24
Purpose:
Medical elastic abdominal belt post-operational is prescribed for maintenance the abdomen muscles tone after traumas,
in case of hernia, kidney abasement and operations, done on these organs, as well as being recommended to women
during post-natal period for a quick bringing to norm abdomen muscles.

Medical indications for use
For treatment of various diseases: belt medical elastic post-operational is for curing of traumas and injuries of abdomen muscles, hernias of abdomen's «white line», incisional hernias (post-operational), abdominal and kidney abasement, atony of abdomen muscles.
In the pre- and post-operative period: for shortening rehabilitation period after operations, being done on abdomen and its organs.
Prophylaxis: the belt can be used with the purpose of tightening one's figure lines, prevents incisional herniation.

Technique of application
Belt medical elastic is used in the stationary hospitals and polyclinics, as well as at home. The size is to be chosen according to circumference of the waist by the scale on the package. It is prescribed to wear the belt over the cotton underwear or directly against the naked body. The article is applied by additional fastener velcro, which lets freely choose right degree of belt's compression. To put on the belt, better lay upon the back on a smooth, hald ar semi-hard surface: At full breathing out drag the belt tightly against the body and fix it by velcro fastener. In the process of wearing, belt gives light effect of pulling one's abdomen up. It must be mentioned additionally, that belt intensifies blood circulation towards soft tissues. In prophylactic purposes it is recommended to wear the belt from 2 to 24 hours per day, according to the directions, given by the doctor in charge and patient's health.

Best before – 5 years.

Contra-indications: to be avoided in case of individual incompatibility with raw material compounds of the article, acute forms of local skin diseases.

Recommendations for you
| | | |
| --- | --- | --- |
| detail | detail | detail |