Elastic medical belt, with crossed metal inserts for lumbar spine fixation for patients with intervertebral disc slip and spinal instability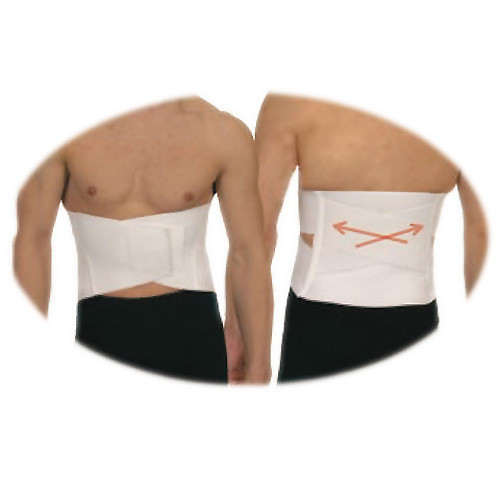 Brand: TONUS ELAST
Size: 4
Product No.: TONUS 0012
Like it? Tell a friend about it:
Brand: TONUS ELAST, made in Latvia
Structure of raw material: polyester – 66 %, latex – 34 %.
Velcro fastener.
For patients with intervertebral disc slip and spinal instability.
Size
a, cm
h, cm
1
M
68-78
23,5
2
L
79-88
23,5
3
XL
89-99
23,5
4
XXL
99-108
23,5
Purpose:
The belt is intended for more rigid fixing at displacement of backbones disks and instability of a lumbar department of a backbone.
It is applied during the rehabilitation period after a various sort of traumas and operations in this area.
Rigid inserts in the field of a lumbar department densely and reliably fix a backbone.

Medical indications
At treatment of various diseases: at displacement and instability of a lumbar department of a backbone,
spondylitis, the consolidated fractures of lumbar vertebra, hernias of lumbar intervertebral disks.
For fixing and unloading of a lumbar department of a backbone at osteochondrosis, radikulopatis and neuralgias.
In up to and in the postoperative periods: for reduction of rehabilitation terms after traumas and operations of a lumbar department of a backbone.
In the preventive purposes: for protection of a backbone at heavy physical work, at employment by physical training and sports.

Technique of application:
The belt can be used in medical, sports establishments and in-home. To select the size of a product it is necessary on a circle of a waist according to a scale specified on packing. Put on a belt directly a body or cotton linen. The product is recommended to be put on in a prone position on an equal rigid or semi rigid surface. Tapes-amplifiers in model ТONUS 0012-01 allow in addition to dose out a degree of a compression. At carrying the belt causes sensations of smartness in the field of a stomach and supports in lumbar area. It is necessary to pay attention to good blood supply of soft tissues. For preventive maintenance it is recommended to carry a product from 2 till 12 hours in a day and to remove for the night. The belt can be applied to treatment after consultation with the attending physician. If use of a product nevertheless causes discomfort, it is necessary to consult in addition at the expert.  

Best before – 5 years.

Contra-indications: individual incompatibility with components of raw material of the product, the expressed local diseases of skin. 
Recommendations for you
| | | |
| --- | --- | --- |
| detail | detail | detail |