Sport equipment
→

Accident prevention

→

Bandages and dressings

→

Band for wrist joint
Elastic medical neoprene wrist splint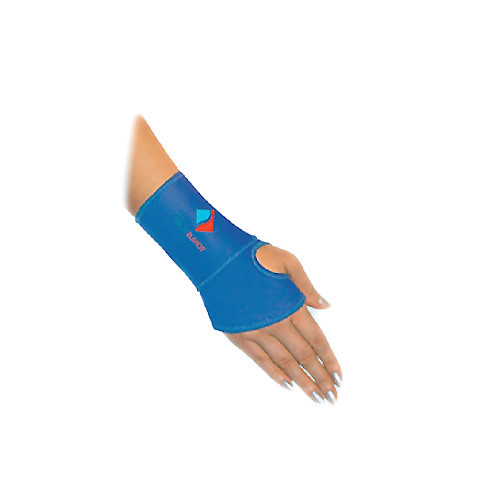 Brand: TONUS ELAST
Color: black
Like it? Tell a friend about it:
Recommended as a preventive medical aid for fixation, protection and support of wrist ligaments, bones and sift tissue.
Structure of raw material: microporous rubber – 80%, cotton – 10%, nylon – 10%.
One size fits all.
Opening for thumb.
Velcro fastener.
-------------------------------
Purpose
Recommended as a preventive medical aid for fixation, protection and support of wrist ligaments, bones and sift tissue.
Medical indications
At treatment of various diseases: bruises, inter muscular hematomas, partial damages of muscles; arthrosis and arthritises of a wrist joint, stilloidity, bursity, sinovity, partial damages joint ligaments.
In before-and in the postoperative periods: after removal of plaster bandage for a quick rehabilitation after traumas and operations on wrist joint.
In the preventive purposes: after a plaster bandage, a various sort of traumas and operations with immobilization of a wrist joint.
Technique of application
The wrist splint can be used as in medical, sport – health improving centres, and in-home. While the putting on the bandage should adjoin densely to a body, tightened and fixed with the help of a fastener velcro by means of which it is possible to pick up individually the necessary degree of a compression on area of a hand. Carry a bandage, putting on directly on a body. Model ELAST 0001 has in the design an aperture for the big finger of a hand that enables to fix the big area of a wrist joint and to facilitate putting on. Model ELAST 9904 is wound around the wrist joint and also fixed by means of a fastener velcro. Model ELAST 0412 has the rigid metal insert completely limiting movements in a wrist joint and joints of the big finger. The metal insert form depends on anatomic features of a hand. The form of a bend is defined by the doctor. At carrying the bandage stabilizes a joint, but does not hold down movements. If subsequent use of a product nevertheless causes discomfort, it is necessary to consult at the attending physician/doctor. As prophylaxes it is recommended to carry a product no more than 2 hours per day and to remove for the night. Time of carrying of a bandage medical can be increased, but preliminary having consulted with the attending physician/doctor. During the long carrying of a product (more than 2-3 weeks) it is desirable using a complex of physical exercises for strengthening muscles and a joint. In a complex with physical exercises the maximal result is reached: the pain decreases, physiological mobility of a joint is restored. Use of various ointments and creams, but preliminary under the recommendation of the doctor is possible.
Best before – 5 years.
Contra-indications: to be avoided in case of individual incompatibility with raw material compounds of the article and skin diseases (using under doctor control).
Sanitary-and-hygienic processing:
Bandage is to be worked out by manual washing in a soap solution at temperature from +30°C up to +40°C. Do not apply the powders, containing bleaches, the cleaning with chemical preparations, the structure neoprene collapses from influence of acids, alkalis, solvents, lubricants. It is forbidden wringing out and drying in a washing machine. It is recommended accurate wringing out without twisting and drying of a product in the straightened kind at temperature from +5°C up to +25°C on distance not less than one meter from heating devices. It is forbidden to dry a product on the sun and ironing.
Storage: The product is to be stored in a clean, dry and ventilated place at a temperature of +10°C to +25°C and relative air humidity 60% to 65%.
Packing: 1 piece.
Recommendations for you
| | | |
| --- | --- | --- |
| detail | detail | detail |