Health and beauty
→

Orthopedics

→

Bandages and dressings

→

Foot bandage ankle support
Elastic medical foot bandage ankle support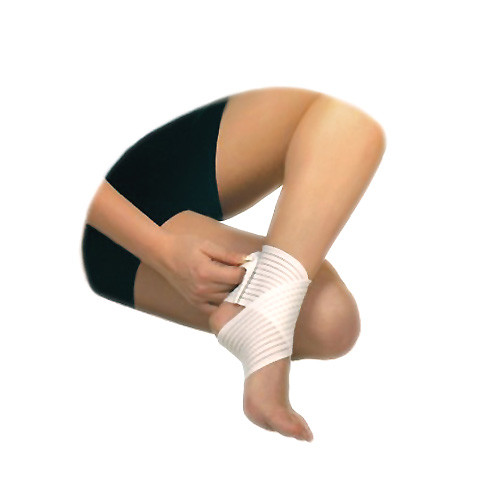 Brand: TONUS ELAST
Color: white
Size: 2
Like it? Tell a friend about it:
Prevents and helps treat injuries, dislocation, sprain, edema and protection and elastic fixation of the leg joint.
Structure of raw material: polyester – 45%, nylon – 35%, latex – 20%
Velcro fastener
---------------------
Prescription:
Prevents and helps treat injuries, dislocation, sprain, edema and protection and elastic fixation of the leg joint, ankle support.

Medical readings
For medical treatment of various diseases:
Medical elastic foot bandage is for curing of intermuscle haematomas, partial injuries of muscles, ligaments, tendons, for better blood circulation in lower extremities; for curing the professional diseases of lower extremities, diseases with trophic after -effects, post-phlebitis syndromes and curable lymphatic oedemas.
Within pre- and post-surgical periods: for a quick rehabilitation after traumas and operations, for prevention of oedematose and possible decrease of inflammatory process.
With prophylactic purposes: for defendence and suspension of muscle-ligamentous apparatus of the ankle, as a preventive measure in case of one's overstrain and overtire during long-timed physical overwork, physical exercises and sport trainings.
Method of application:
Medical elastic foot bandage Model ELAST 9610 is a ready medical dressing for the ankle fixation. It is to be put over the naked foot or thin cotton sock without rubber. Within first few minutes the foot seems to be slightly squeezed, if only patient feels further heaviness, hard constriction, the bandage is to be removed and calve muscle, heel, foot and Achilles tendon are to be massaged. In this case the bigger size bandage is recommended. In fact of right choosing and applying the ankle bandage, foot toes become slightly bluish, if the leg is not moved. As soon as the leg is moved, toes come to norm. Medical elastic foot bandage Model ELAST 9610 tape-kind, applied by the fastener velcro. Universal, the size and compression's degree are individually regulated.
Technique of bandaging:
1. the bandage is applied upon the slightly back bend foot, that prevents pleated bandaging, which may hurt the skin at walking, at first make a turn round, then diagonal turn around the ankle, Achilles tendon and fix the bandage by the fastener velcro in the comfortable for patient place (part of the leg).
2. the bandage is firstly applied upon the slightly supported foot, then against the ankle, next is to make full cross-bandaging, so-called «figure of eight», turn the bandage around the foot and fix it by the fastener.
After the first-time application of bandage elastic ELAST 9610, ELAST 0005 the training walk during 20-30 minutes is being recommended to patient.
Best before – 5 years.
Contra-indications: individual incompatibility with raw materials of the product.
Sanitary-and-hygienic processing:
Medical elastic foot bandage is to be worked out by hand wash in the soap solution at temperature from +35°C to +40°C, not by the powders, containing bleaches. Not to be cleaned by chemical means. After washing it is recommended to wring out carefully without twisting and smooth out before drying. Ironing is prohibited.
Storage: The product is to be stored in a clean, dry and ventilated place at a temperature of +3°C to +25°C and relative air humidity 60% to 65%.
Packing: 1 piece.
Recommendations for you
| | | |
| --- | --- | --- |
| detail | detail | detail |