Elastic medical neoprene fixer for elbow joint, with padding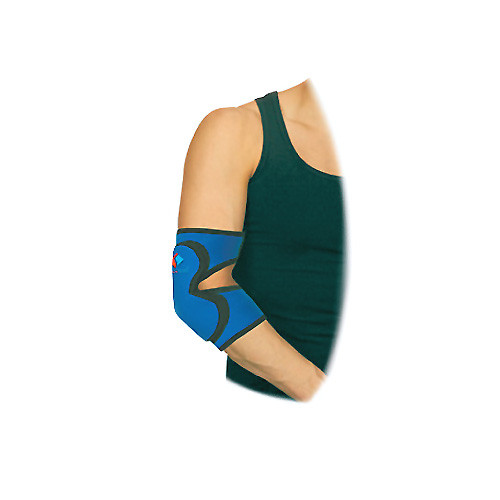 Brand: TONUS ELAST
Color: dark blue
Size:
Like it? Tell a friend about it:
Recommended as a preventive medical aid for reinforced protection of elbow ligaments, bones and soft tissue against impact.
Structure of raw material: aeroprene – microporous rubber – 80%, nylon – 20%.
-----------------------------------------------------------------------------------------------------------
Prescription:
The bandage medical elastic of neoprene for soft fixing an elbow joint is intended as treatment-and-prophylactic means for external fixing, protection and maintenance a condition of rest of the copular (bone) apparatus and soft tissues. Possesses thermal and micro massage influence. Renders a moderate compression, improves blood supply, stimulates exchange processes in subject tissues, in  a skin, in hypodermic fatty cells and muscles. Are used at the period of rehabilitation after operations in the field of an elbow joint.  Protects from various traumas of a joint at impacts and falling, at playing sports and physical activities.
Medical indications
At treatment of various diseases:  bruises, inter muscular hematomas, partial damages of muscles, myositis, muscular hernias; arthrosis and arthritises of an elbow joint, partial damages of joint ligaments.
In the pre- and post-operative period: for reduction of terms of rehabilitation after plaster bandages with immobilization an elbow joint and after operations on elbow joint.
Prophylaxis:at fast weariness of the copular apparatus of an elbow joint, preventive maintenance of damages at playing sports, physical activities.
Technique of application:
The elbow bandage medical elastic of neoprene for fixing an elbow joint can be used as in medical, sport – health improving centres and in-home. To select the size it is necessary on a circle of an elbow according to a scale specified on packing. Carry a bandage, putting on directly on a body or cotton underwear. To put on a bandage for fixing an elbow joint it is necessary so that seams of connection of details bandages model ELAST 0211 or shield protection model ELAST 0212 appeared directly on an elbow. At carrying the bandage causes easy feelings of smartness, but does not hold down movements. The slightest attributes of frustration of blood circulation are a parameter of that the size has been picked incorrectly up and it is necessary to get an elbow bandage of the greater size. If the subsequent products carrying causes discomfort, it is necessary to consult at the attending physician/doctor. As prophylaxes it is recommended to carry a product no more than 2 hours per day and to remove for the night. Time of carrying of a bandage medical can be increased, but preliminary having consulted with the attending physician/doctor. During the long carrying of a product (more than 2-3 weeks) it is desirable using a complex of physical exercises for strengthening muscles and a joint. In a complex with physical exercises the maximal result is reached: the pain decreases, physiological mobility of a joint is restored. Use of various ointments and creams, but preliminary under the recommendation of the doctor is possible.
Best before – 5 years.
Contra-indications: to be avoided in case of individual incompatibility with raw material compounds of the article and skin diseases (using under doctor control).
Sanitary-and-hygienic processing:
Bandage is to be worked out by manual washing in a soap solution at temperature from +30°C up to +40°C. Do not apply the powders, containing bleaches, the cleaning with chemical preparations, the structure neoprene collapses from influence of acids, alkalis, solvents, lubricants. It is forbidden wringing out and drying in a washing machine. It is recommended accurate wringing out without twisting and drying of a product in the straightened kind at temperature from +5°C up to +25°C on distance not less than one meter from heating devices. It is forbidden to dry a product on the sun and ironing.
Storage: The product is to be stored in a clean, dry and ventilated place at a temperature of +10°C to +25°C and relative air humidity 60% to 65%.
Packing: 1 piece.
Recommendations for you
| | | |
| --- | --- | --- |
| detail | detail | detail |