Elastic medical neoprene shorts for support and warming of hip and thigh joints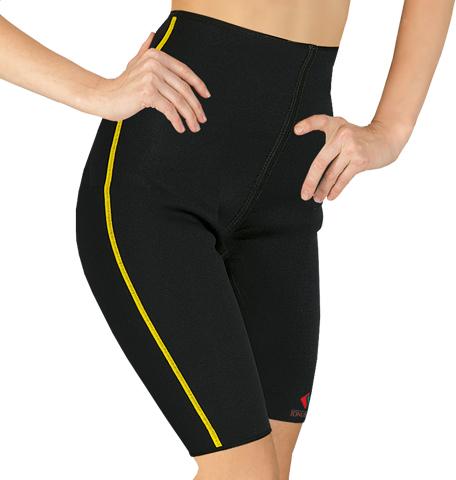 Brand: TONUS ELAST
Color: black
Size:
Like it? Tell a friend about it:
Sauna pants designed for external fixation and measured compression of muscles. Improve circulation, facilitates metabolism of the abdominal and hip deeper tissues, skin, subcutaneous fat and muscles. Can be used by elderly people during at load.
Structure of raw material: aeroprene – microporous rubber – 80%, cotton – 10%, nylon – 10%.

Size
a, cm
b, cm
1
XS
66-70
90-94
2
S
71-75
95-99
3
M
76-80
100-104
4
L
81-85
105-109
5
XL
86-90
110-114
6
XXL
91-95
115-119
7
XXXL
96-100
120-124
-------------------------------------------------------------------------------------------------------------------------------
Prescription:
Shorts are intended for external fixing and a dosed out compression of muscles. Possess thermal and micromassage influence, are well modelled. Render fixing and a moderate compression, improve blood supply, stimulate exchange processes in the tissues, in subcutaneous fat and in muscles. Promote venous and lymph flowing , to correct formation of contours of a body at playing sports and gymnastics. The maximal effect is reached during movements. Can be applied including, older persons, at moderate loadings.
Medical readings
For medical treatment of various diseases:  it is applied at lowering of internal bodies, by wandering kidney, by hernias, by hernias of the anterior abdominal wall after operation, by direct muscles of a stomach, threat of postoperative hernias of a forward belly wall, postnatal weakness of muscles. It is applied after traumas and dislocations of bones of a pelvis and damages of hypogastrium- joints, intermuscular hematomas, partial damages of muscles, myositis, muscular hernias.
Within pre- and post-surgical periods: for a quick rehabilitation after traumas and operations, for prevention and reduction of inflammatory processes in the pelvis area.
With prophylactic purposes: preventive maintenance and treatment pathological expanded hypodermic capillaries, and also a cellulitis. For weight reduction, thickness reduction of hypodermic fatty cells in the field of hips, buttocks, a stomach.
Technique of application:
Medical elastic Neoprene shorts can be used in medical, sport – health improving centres and also in-home. To select the size it is necessary on a circle of a waist and hips according to a scale specified on packing. Carry shorts, putting on directly on a body or cotton underwear. The product is in addition supplied for convenience with a fastener «lightning» which is duplicated by tape hooks in order to prevent premature breakage of a fastener. At carrying shorts cause easy sensation of smartness in the field of a stomach, hips, buttocks, but do not hold down movements. Additional warming up of the specified places is felt. It is necessary to pay attention to good blood supply of soft tissue. The slightest attributes of frustration of blood circulation are a parameter of that the size has been picked incorrectly up and it is necessary to get shorts of the greater size. If the subsequent products carrying causes discomfort, it is necessary to consult at the attending physician/doctor. With the purpose of preventive maintenance the product is recommended to be carried no more than 2 hours per day and to remove for the night. In a complex with physical exercises the maximal result is reached: the general tone of soft tissue is restored, fatty adjournment decrease in the field of a stomach, hips and buttocks. Shorts medical Neoprene also are effective means in struggle against a cellulitis. Use of various ointments and creams, but preliminary from the recommendation of the doctor is possible.
Best before – 5 years.
Contra-indications: to be avoided in case of individual incompatibility with raw material compounds of the article and skin diseases (using under doctor control).
Sanitary-and-hygienic processing:
Shorts of  pelvis are to be worked out by manual washing in a soap solution at temperature from +30°C up to +40°C. Do not apply cleaning with chemical preparations, the structure neoprene collapses from influence of acids, alkalis, solvents, lubricants. It is forbidden wringing out and drying in a washing machine. It is recommended accurate wringing out without twisting and drying of a product in the straightened kind at temperature from +5°C up to +25°C on distance not less than one meter from heating devices. It is forbidden to dry a product on the sun. It is forbidden ironing.
Storage: The product is to be stored in a clean, dry and ventilated place at a temperature of +10°C to +25°C and relative air humidity 60% to 65%.
Recommendations for you
| | | |
| --- | --- | --- |
| detail | detail | detail |